MAMMOTH BEDS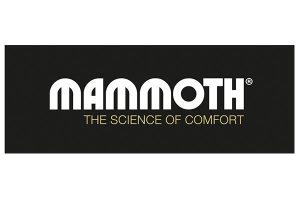 Mammoth's modern mattresses combine existing tried and tested traditional materials, with advanced sleep and support technologies once reserved for the healthcare industry, to deliver comfort and rejuvenation like no other. Originally designed to improve the performance and wellbeing of Olympians and elite athletes, today Mammoth are here to give everyone the opportunity to be the best version of themselves, by waking up on the right side of the bed every morning.
Based on Mammoth's original mattress design with an attainable price point, the Performance 240 mattress has been the mattress of choice for over ten years. Between them, our customers have enjoyed millions of good nights and the great days that follow, on this modern classic of a mattress.
The Performance 240's increased depth and tailored quilting ensures unparalleled levels of support and comfort.  All you need to do is choose which 'feel' you prefer, Medium or Firm.  You can then be confident that you've made the perfect choice, and when you wake up in the morning feeling your absolute best, you'll know it.
One of Mammoth's most popular mattress for the last 2 years running and the most pressure relieving mattresses we have ever crafted. The SuperSoft 270 mattress is popular with those with back complaints, and interestingly the model favoured by Tottenham Hotspur for their player's welfare and wellbeing.
POCKET 2000
With 25% more individual pocket springs, the Pocket 2000 mattress offers even more tailored support with a medium feel. Topped with a really generous comfort layer of our original Medical Grade™ pressure relieving foam. For those who want to push the boat out a little bit more when it comes to getting the best support and comfort around.
POCKET 3000
Originally developed for our clients in Dubai, our most luxurious Mammoth pocket sprung mattress is deeper still, and even more sumptuous, boasting 3000 pocket springs for the best of all things Mammoth.
This mattress adds a second layer of our premium responsive Medical Grade™ Foam, for a feel like no other.The Pocket 3000 mattress is for those who demand the best they can afford when it comes to their nights' sleep, with carefully crafted double stitching and elegant finishing.